DOWNLOAD THE AGENDA:
Life Science Inspection Readiness Conference

November 6-7, 2017 | Alexandria, VA
Courtyard by Marriott Alexandria Pentagon South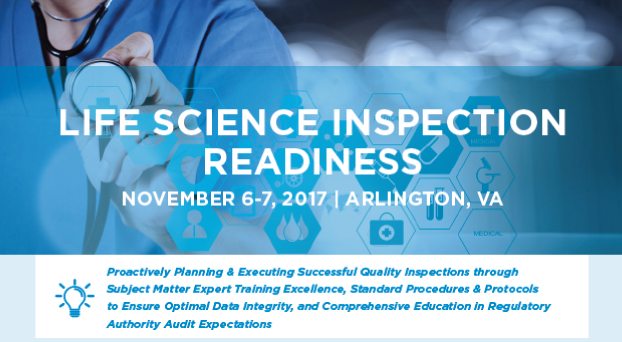 Please Complete the Form to Download Your Agenda
ABOUT THE CONFERENCE
Results of a quality inspection can have significant effect on pharmaceutical, biotechnology and medical device corporations, and an inspection with critical deficiencies can have a measurable impact on the future of life science organizations. When preparing for an inspection from regulatory authorities, quality auditors and inspection readiness executives must operate with precision-like vigilance, ensuring all matters from the accuracy of recorded data, to knowledge of internal personnel, to automated system calculations are operating to the highest standards.
Preparing for an inspection entails a variety of challenges, quality audit executives are tasked with ensuring adequate compliance regulatory authorities in varying global markets, discerning the correct subject matter expert and educating the expert on inspection protocol, as well as correcting and identifying the root cause of any issue discovered by a health authority.
Q1's Life Science Quality Inspection Readiness conference gives quality and inspection professionals an opportunity to knowledge share with peers about best practices in documentation, hear directly from health authorities about current inspection trends, and participate in skill building workshops that will allow teams to improve protocols and ultimately increase preparedness for future inspections.
WHO SHOULD ATTEND:
Executives that will find this program of greatest relevance are those currently working to maintain the corporate compliance & ethical considerations of medical device and diagnostic corporations. Job titles of those executives that will find this program to be most applicable to their job functions include:
VPs, Directors& Managers within:

Quality Auditors
Inspection Readiness
Quality
Risk Management
WE GUARANTEE 100% PRIVACY, YOUR INFORMATION WILL NOT BE SHARED