DOWNLOAD THE AGENDA:
2nd Annual Pharmaceutical Manufacturing Execution Systems Conference
May 22-23, 2017 | San Antonio, TX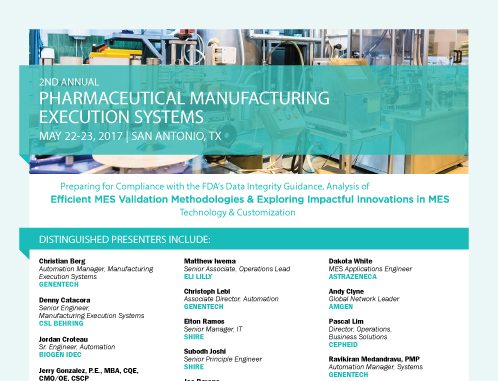 Please Complete the Form to Download Your Agenda
ABOUT THE CONFERENCE
Q1 has over a dozen years of experience in providing high level educational content for the manufacturing and production manager in the pharmaceutical industry and is consistently ranked by participants as delivering quality program content, speaker selection, and facilitation.
This program is unique in that it encompasses MES and production information pertinent to pharmaceutical manufacturers both without MES solutions and long-term MES users. All content is delivered by industry speakers as case studies, group discussions, and multi-session presentations so you will return to the office with tangible ideas that may be implemented immediately.
The program has been designed to deliver on three core pillars of educational excellence:
1. Peer-led case studies and master classes- Industry leaders from organizations such as Rockwell Automation, Genentech, and Genzyme will lead solution driven, in-depth discussions about common industry challenges. You will come back to the office with a better understanding of how other companies are successfully accomplishing aligning customer expectations to deliver successful MES and clarifying the FDA data integrity draft guidance & preparing for implementation.
2. Professional development opportunities- Hands-on workshops will enable attendees to participate in solution-driven discussions and activities. The program draws a high-level audience, so the expertise gained from the other attendees will be as valuable as the presenters.
3. Structured networking- Throughout the two days, there are multiple peer-to-peer networking opportunities which will assist in building our mutual network. Networking breaks and luncheons facilitated each conference day will provide attendees with ample MES and production discussions.
Download the agenda to see all the presentation topics, speakers and formats.
WE GUARANTEE 100% PRIVACY, YOUR INFORMATION WILL NOT BE SHARED