DOWNLOAD THE AGENDA:
ACO Leadership and Strategic Governance Forum

September 18-19, 2017 | Dallas, TX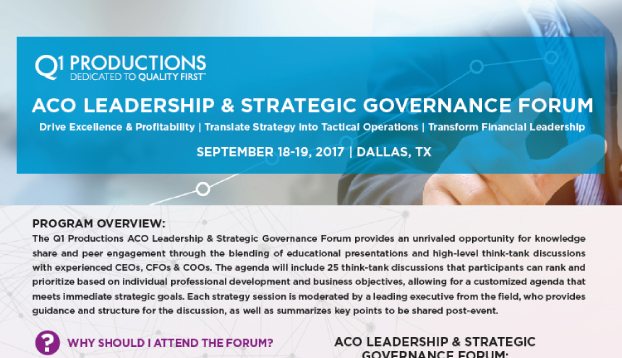 Please Complete the Form to Download the Agenda

ABOUT THE FORUM
This program is unique in that it combines solution-driven discussions with executive networking opportunities. All content is delivered by industry speakers as boardroom discussions so you will return to the office with tangible ideas that may be implemented immediately.
The program has been designed to deliver on three core pillars of educational excellence:
Peer-led case studies and master classes– Executive leaders from the top Accountable Care Organizations will lead solution driven, in-depth discussions geared towards providing exceptional healthcare while reducing care costs. You will come back to the office with a better understanding of how other organizations are successfully navigating current healthcare concerns.
Professional development opportunities– Boardroom discussions will provide executives with the ability to meet with leaders in an intimate setting. This high-level audience will enable attendees to learn from multiple strategies for combating challenges in the healthcare industry.
Structured networking- Throughout the two days, there are multiple peer-to-peer networking opportunities . Luncheons, coffee breaks, and discussions will provide attendees with the ability to continue industry-driven discussions with a diverse group of peers.
WE GUARANTEE 100% PRIVACY, YOUR INFORMATION WILL NOT BE SHARED